Following last's week blog on the important personal skill of delayed gratification as defined as the ability to resist temptation for an immediate reward and wait for a later, often greater and more enduring award, Part II of this message will focus on another important personal skill.
As we continue on our journey to build and strengthen our character, this second skill has also been shown to be critical to ensuring lasting success in building healthy relationships and having a positive impact in our life's effort.  This skill is not as well studied in academia as the "marshmallow test" demonstrating delayed gratification, but this second skill is documented throughout history as being an important personal skill.
Part II of this message addresses the critical skill of proactive service – The ability to identify a need and make the choice to take action to meet the need.  This skill goes sharply against the "what's in it for me crowd," the "I just want to be happy crowd" and the "I am just in it for the money crowd."
Proactive service is embodied in the quote from President John F. Kennedy at his inaugural address in 1961 when he said, "ask not what your country can do for you–ask what you can do for your country."  For those searching for purpose, proactive service is captured in the words of Mahatma Gandhi who said, "The best way to find yourself is to lose yourself in the service of others."
Proactive service is as much as a choice as it is a skill.  It is a choice to run towards problems instead of away from them.  It is a choice to persevere when our selfish needs of recognition and reward make quitting seem like a really good option because we are not getting what we want from the experience.
Proactively looking for ways to serve has been and will continue to be the hallmark of individuals who leave a legacy that endures by leaving the world a better place than they found it. They are most often not characterized by those who made a great financial reward for their skill of serving others or developing a product that meets a huge market need.  Proactive service is most commonly seen in:
The home by those who continue to serve others in daily tasks that often go unnoticed and underappreciated for years.
The workplace by individuals who raise their hand to help when a young supervisor has been given a big task and by those who stay a little later to ensure the job gets done even when it goes past the time to clock out.
The community by individuals who choose to serve in capacities of real need even when they could apply those skills and energy to earn a greater financial reward in some other endeavor.
The examples we see all around us of proactive service are worthy of remembering and teaching to others.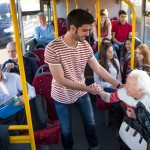 Building a strong foundation of proactive service does not start with questions like "what makes me happy" or "what do I do best."  Living a life of proactive service begins with the question, "What needs to be done?"  Individuals find purpose and passion in identifying needs and getting busy meeting the needs of others in our homes, our workplace and our community.
As we make the choice to proactively serve in areas of need, we will continue to build and strengthen our character and our Character Creates Opportunity® for us to reach our full potential and leave a legacy that sets an example for others to follow.