We all appreciate freedom.
The freedom to come and go as we please.  The freedom to live according to a set of beliefs.  The freedom to pursue our hopes and dreams. The list could go on and on.
One person who understood freedom very well was the late Nelson Mandela (1918-2013, former President of South Africa).
On February 11, 1990, Nelson Mandela, after 27 years in prison, walked out of a South African prison into freedom, but he was not totally free.  It was not until he made one more decision that truly set him free.  "As I walked out the door toward the gate that would lead to my freedom, I knew if I didn't leave my bitterness and hatred behind, I'd still be in prison." Nelson Mandela
If we all reflected on the following questions, how would we respond?
Have we ever been misguided by a friend or family member?
Have we ever been treated unfairly in the workplace?
Have we ever put our heart and soul into a relationship that subsequently fell apart?
Have we ever had someone we trusted take advantage of that trust?
Chances are pretty good that we all would answer "yes" on many, if not all, of the questions above.
Given the affirmative response to many of these questions, an important reality we need to face is the level of bitterness and anger we still hold around those events and those individuals. To use Mandela's concept, are we still in prison because of those feelings?
As we continue to build and strengthen our character, we need to ask ourselves an important question, "If I am holding on to bitterness and anger from the past, am I really free?"
This personal side of freedom is different than the 4th of July kind of freedom we experience.  This personal side of freedom is a result of the individual choice we make to leave bitterness behind and move on.
If we let bitterness and anger from the past define our future, we will not reach our full potential.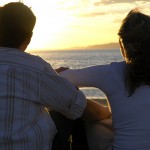 Here are just a few ideas to help us move towards the personal freedom we need to reach our full potential:
We all make mistakes. We have probably caused some pain on others we wish we had not.  Extend the same forgiveness and understanding we wish others would do for us.
It will happen again. Life is complicated and people react in different ways. We need to be careful that we don't become disillusioned with expectations that life will be clean and nice.  Life is messy and complicated.  There will be misunderstandings and pain along the journey.
Bitterness and anger hold us back. Once we learn to forgive and move on, we will experience the benefits of being free from the anger of the past.  We will develop the "muscle memory" to forgive quickly, remove negative emotions, and apply ourselves fully to achieve our hopes and dreams.
We set an example for others to follow. The more we can demonstrate the ability to remove bitterness over past events, the more others we see our actions and follow…especially those closest to home that we hope can have the best foundation to reach their full potential.
As we make the choice to leave behind bitterness and anger from the unfortunate events of our past, we will continue to build and strengthen our character and Character Creates Opportunity® to reach our full potential and have a great impact on those around us.