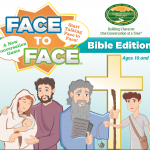 Portage, MI (October 29, 2014) — Harvest Time Partners, Inc., a rapidly growing personal- and professional-development company, announces the launch of a new game as part of its award-winning Face to Face® conversation-game series. The new game, Face to FaceBible Edition, is part of Harvest Time Partners' Character Creates Opportunity® brand and is suitable for ages 10 and above. The new conversation game is available for purchase today.
This new conversation starter game contains the same easy-play format of the other Face to Face games. The Bible edition contains ninety-six key events from both the Old and New Testaments of the Bible. This new edition is designed to open a door to effective discussion around biblical events and to reinforce the importance of applying biblical principles like sacrifice, courage, and commitment in our lives today. The game helps to encourage open and honest conversations on real-world issues and to develop the critical life-skill of effective face-to-face communication in a world that is rapidly changing how people connect. Face to FaceBible Edition is perfect for small group meetings, Sunday school sessions, and as content support for parents, teachers, and ministers in a variety of forums focused on improving biblical understanding and its application in our present-day lives.
David Esposito, managing partner of Harvest Time Partners, said, "We are excited to bring this new game to market. The faith-based community has been a wonderful supporter of our entire product line; and, based on their request, we are thrilled to bring the Face to Face Bible Edition to market today. Similar to our other products, the new game helps to reinforce the importance of principles like faith, compassion, and understanding as powerful ways to build and strengthen character to effectively deal with today's realities. In addition, the game helps to develop the critically important life skill of face-to-face, authentic communication that is rapidly being replaced by today's online chatter."
The game is available on the company's website at www.harvesttimepartners.com, on major online channels such as Amazon.com, and through a growing number of retail outlets. Retail orders are available through New Day Christian Distributors at www.newdaychristian.com or by calling 1-800-251-3633.
For more information or to discuss additional products and services from Harvest Time Partners, Inc., please visit the company website at www.harvesttimepartners.com. You can also contact David Esposito at (877) 786-4278 or david [at] harvesttimepartners.com.
About Harvest Time Partners, Inc.
Harvest Time Partners, Inc. was formed over 20 years ago to enable individuals, families, and organizations to reach their full potential in an increasingly complex and unpredictable world through customized, character-building programs and services. The company's patented and award-winning family-based games have been embraced by families, schools, counseling programs, and faith-based organizations worldwide. They support the development of character and the importance of principle-based decision making—you reap what you sow.