Face to Face Conversation Games
Face To Face® Card Game for Kids, Teens, and Adults
Face to Face conversations games include 96 question cards that ask players questions that stimulate lively discussions on real-life issues. They help build the critically important life skill of authentic "Face to Face" communication.
Face to Face is available in four versions for four different age groups, including a special Bible Edition: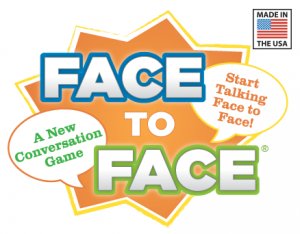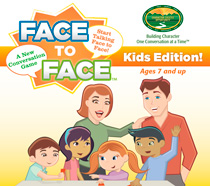 Face to Face Kids Edition
For ages 7 and up
Scenarios help to create teachable moments for parents and educators.
Sample Scenarios
(Answer the question: What would YOU do?)
While you were struggling to finish a math test, you noticed your friend sharing answers with someone else during the test.
After buying some candy at the store, you realize the store clerk gave you an extra $10 bill when giving you change.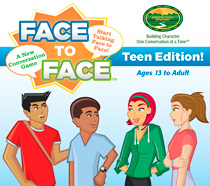 Face to Face Teen Edition
For teenagers 13 and up
Scenarios open dialogue between teens and between parents and teens.
Sample Scenarios
(Answer the question: What would YOU do?)
You have a friend who has betrayed your trust. You told her a secret about someone at school, and she has broadcast it to everyone you know.
Upon walking into the bathroom at school, you notice two classmates exchanging something in a plastic bag for money.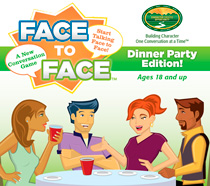 Face to Face Dinner Party Edition
For ages 18 and up, adults and parents
Scenarios encourage discussion between adults on issues in marriage, raising children, and the workplace.
Sample Scenarios
(Answer the question: What would YOU do?)
Your spouse seems to spend a great deal of time online, using various social media sites. You are concerned this "habit" is affecting your relationship.
Your 17-year-old daughter comes home from a weekend with her friend's family and shows you her new tattoo.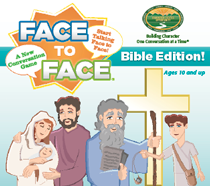 Face to Face Bible Edition
For ages 10 and up
Start great discussions around 96 key events in the Old and New Testaments.
Helps to apply Biblical principles like sacrifice, loyalty, and commitment in everyday life.
Sample Scenario
Luke 10:38-42
Jesus came to the house of Mary and Martha. Martha decided to stay busy with cooking and cleaning for the visit, and Mary decided to sit and listen to Jesus.
What principles did Mary and Martha use to help guide their decision? If you were Mary or Martha, how would YOU feel & what would YOU do? How can you apply these principles in your life today?