Have you ever made a promise or commitment and then failed to deliver on it?  I am sure we all can look back through our own personal history and get a bad feeling feel about a time when we said, "oh yea, I will take care of that" or "when this 'busy season' passes, we will get some time together" and then the reality hits that we dropped the ball on keeping the commitment.
Several years ago, I participated in some extensive research to determine what customers felt were the most valuable qualities of a great account manager.   After spending a great amount of time and money on the research, many of the conclusions were pretty consistent with our own experience and ideas; listens well to identify needs, partners around common goals, adds relevant insight on key challenges, etc.  However, the one surprising finding from the research was that there was one quality that superseded all others as the one defining quality that makes a great account manager.  The one quality was simply that the account manager did what they said they were going to do.  They simply follow-up on action items/commitments during routine interactions.
As I look back over my own experiences in business, I can recall a few times when I dropped the ball on a customer commitment and in some cases was not able to repair the damage.  Even more painful than missing on a customer commitment, I can remember missing a few promises at home with my wife and kids; "I will come out and play in a minute, I just need to finish this small project" or "leave it to me, I will make some great plans to reconnect once this road show ends" and like the old Creedence Clearwater Revival song, we all know how the story ends,  Someday Never Comes.  Perhaps some of you can also relate to a few commitments you wish you delivered on at home and in the office.
There is a tremendous opportunity to build and strengthen our character that comes with fulfilling our commitments or in more kid friendly terms, keeping our promises.  Just like that quality that makes a great account manager, a quality that models strong character for those around us is when we keep our promises.  It is important for all of us to take an honest assessment of the commitments we make and put the priority on fulfilling our promises.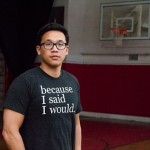 A simple, yet tremendously powerful movement has recently sprung up to help and encourage all of us to keep our promises.  Recently, I had the chance to meet the founder of this movement called "because I said I would."  In the enclosed link/photo, the founder, Alex Sheen, gives an amazing testimony to this movement to keep our commitments.  I would encourage you to watch and listen.  I hope it encourages you, as his presentation did me, to keep our commitments.
When we keep our promises, we will build and strengthen our character and Character Creates Opportunity® to build healthy relationships and set a great example for others to follow.