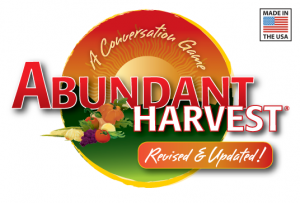 Abundant Harvest® Board Game for Kids, Teens, and Parents
(View Video)
This award-winning, patented,* and fast-moving conversation game helps families and educators open the door to more productive dialogue. It reinforces the importance of developing strong character traits and encourages good, principle-based decision making. Through this game, players quickly learn the law of the harvest—you reap what you sow. Abundant Harvest is available in two versions for two different age groups:
Abundant Harvest for Kids
For 2-8 players, ages 7 and up
Creates teachable moments for parents and educators.
The situations presented are directed towards children who are learning the importance of making decisions that are based on principle.
Sample Scenarios (Answer the question:
What would YOU do?)
You find a wallet with $300 in it on the school playground. No pieces of identification can be found in the wallet.
While on a long drive to your in-laws' house for a holiday weekend, your kids continually ask about every 5 miles, "are we there yet?"

 Abundant Harvest for Teens & Adults
For 2-8 players, ages 13 to adult
Fosters open discussion around real-world issues to help teens and adults communicate more effectively.
Sample Scenarios (Answer the question:
What would YOU do?)
Your son accidentally rear-ended a parked car in the shopping mall and then drove home without reporting the accident to anyone.
Your roommate has been behind on paying his/her portion of the rent and utility bills. This is the second month of hearing his/her excuses, and you are running low on your savings to cover the extra costs.

Click here for retail store purchases and wholesale pricing.
We Know You'll Love Our Products…
If for some reason you are not satisfied with your purchase, please contact us at customerservice@harvesttimepartners.com so that we can address the concern.
Our products come with a 100% satisfaction guarantee.
*Awarded a US patent for method of play (US Patent 7,073,792).
All games are made in the USA.