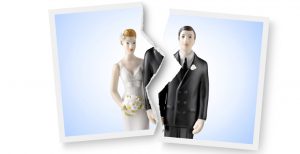 Tolstoy once said, "Happy families are all alike; every unhappy family is unhappy in its own way."
No divorce is the same, and no child experiences their parent's divorce in the same way. In the United States, 40 to 50 percent of marriages end in divorce. (Source)
The transition of a divorce may be one of the most impactful transitions. Here are some tips to manage it for yourself and your child.
Taking care of yourself (Source)
The difficulties of divorce and living your life without the person you once depended on can cause a rush of emotions and may come on when you least expect them. It is important to feel and accept those emotions, whatever they may be, but it is also important to be kind and compassionate to yourself. Research shows that those who are kind and compassionate to themselves have an easier time managing the day-to-day difficulties of divorce.
Even though communication with your soon to be ex or ex may be the last thing you want to do, it is important to do so to ensure a smooth and healthy transition. Write down points that you want to talk about so your emotions don't take over and speak for you when you are trying to have a successful conversation with your ex.
When children are involved 
Ending a marriage causes a wave of emotions, especially when you have children together. If you are worried about your child during you and your ex's divorce, it is important to know that most children of divorced parents adjust to their parent's divorce within two years, whereas children whose parents remain in their high conflict relationship, instead of getting a divorce experience more problems. (Source)
Your life and your kid's life will drastically change during and after the divorce. In order to make this transition smoother for the entire family, encourage honest and open conversations and discuss the new transitions together such as moving houses, the custody agreement, and make sure your kids know you and your ex will always support and love them. Even though you and your ex may not get along, always encourage and support the relationship between your ex and your child.
For the kids
Change is hard, especially drastic and emotional change. When your parents get a divorce you feel like your family is broken; but it's not. Your parents still love you, and you were not the reason for them breaking up.
Being a child of divorced parents can put a lot of pressure on you. You may feel like you have to choose between one parent or the other, like you can't talk about them to each other, or like you can't be with them at the same time. But this shouldn't be the case; it is important to maintain a close relationship with each parent.
For more help and advice with the transition from elementary school to middle school check out Harvest Time Partner's Face to Face conversation games.
Harvest Time Partners thanks contributing writer Emily Garber for her insights on life's transitions.