There comes a point in time in every long term relationship, every major work endeavor, every pursuit of a life-long dream, and each time we attempt to make a change in our own behavior, when quitting starts to look good.  We question the original choice we made and we look for a way out.
The excitement surrounding the start of a new journey carries us for quite a while and then, when the really hard work begins, our internal voice starts to ask a few questions.
As we continue on our journey to build and strengthen our character, making effective decisions when our commitment begins to falter will help us in the journey to reach our full potential.
We are all very familiar with the motivational stories like Abraham Lincoln overcoming numerous personal, business, and political failures before finally becoming the President of the United States.  We probably all have a few motivational quotes either on a wall or stuffed in some drawer that help to serve as a reminder of what it takes to overcome struggles.  We all need good reminders.
Many times, we become enamored by the story and the ultimate outcome.  However, more important than the outcome, are the small acts done each day.  The commitment of showing up every day is the real strength of the story.
When we commit to a decision, we will have moments (maybe years of moments) when we don't feel like doing it, when we may believe it was a poor choice.  But, when our commitment remains day in and day out, the opportunities to learn, grow, and overcome show up also.  Just showing up every day is the "wisdom" that gets lost in the popular stories about overcoming.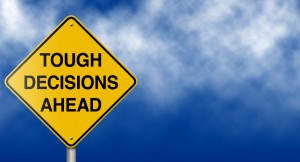 As we learn and grow, goals will change over time.  The situation may require a different set of decisions as we navigate the journey, but what matters is that we climbed back into the ring each and every day, whether we felt like it or not.  Just showing up and staying in the game is often what makes all the difference in the world.
Here are just a few points to consider when our commitment begins to falter:
We are all in the same boat. Anyone who has ever made a decision to commit to a goal worthy of effort has encountered a moment when quitting looks like an attractive option.
The ultimate goal is not the only celebratory moment. What is worth celebrating is the day in and day out commitment to show up and do the work required.  Climbing back in the ring each day is worthy of recognition.
Opportunity shows up, when we show up. So, more times than not, the most effective choice we can all make is to keep showing up each and every day.
There will be moments when our commitment begins to falter.  However, when we make the simple decision to keep showing up, we will gather momentum behind our commitment.  We will continue to build and strengthen our character and Character Creates Opportunity® to reach our full potential and accomplish the goals we set.