Whether it is a spring cleaning or a fall clean-up, the seasons of the year often make for great motivation to clean out the garage or basement, tidy up that storage area, or finally throw out some things in the back of the closet that have not seen the light of day in about a decade.  There is usually a psychological breath of fresh air that comes after completing a seasonal clean and provides us with a rejuvenating sense of new energy to move forward.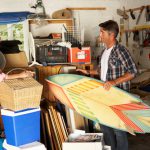 As we continue on our journey to build and strengthen our character, we need to be intentional about conducting a seasonal clean in some new areas that garner the attention in our lives.
Let's face it, we all spend a great deal of time in front of a screen these days whether it is a computer, tablet or smart phone. 
What are we consuming on a regular basis? Is the content that we routinely screen through positive, uplifting and encouraging or is it negative and filled with anger and frustration?
Just as we feel a breath of fresh air when we finally clean out that closet and get organized, we have an opportunity to clean out the routine garbage and consistent impediments online that we scroll through and get a breath of fresh air and perspective from our digital life.
Here are a few thoughts to help encourage a seasonal cleaning for our digital storage area:
Control: With today's technology, we have the ultimate control to turn on or off content. We no longer live in a world with 3 major network TV channels and a force feeding of content.  With a few easy clicks, each of us can control what shows up on our screens.

Uplifting: We live in a world that is tilted toward the negative and the worry of breaking news. It is extremely difficult to stay away from the negative slant on things in our day to day lives. We need a few consistent sources of uplifting and encouraging content.  Our digital life is best positioned to be that source.

Selective Withdrawal: We have all created some habits and patterns to our digital lives.  Take a weekend or a few days of vacation and get off the grid.  The experience will open our eyes to a few things we have been missing and will be a good source of motivation to do some house cleaning of our digital life when we get back on the grid.

Outside Opinion: How many of us have the courage to let someone look over our shoulder at our online habits or retrace our digital footprints over the last few days, weeks, or years?   We all have a tendency to find a good hiding place inside our online world.  Shining a light on our online habits may be what is required to break some strong chains we have created in our online world. What we do online directly impacts those we care about most.  We need to build up the courage to do whatever it takes to break some negative online habits.   
As we consistently rely on a spring cleaning or fall clean-up to get our house in order, we need to be intentional about doing the occasional clean-up in our digital world.  As we guide our digital world with selections focused on encouragement and compassion, we build and strengthen our character and Character Creates Opportunity to build habits that will form the foundation to reach our full potential.