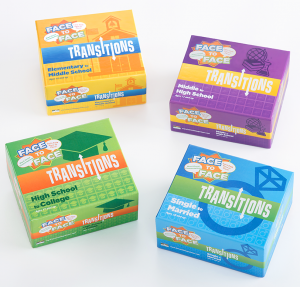 Latest Line of Card Games Stimulate Discussions About Important Transitions in Life
Portage, MI (March 29, 2017) — Harvest Time Partners, Inc., a rapidly growing personal and professional development company, announces the launch of a new line of conversation games designed to build and strengthen character, one conversation at a time. Part of the Harvest Time Partners Character Creates Opportunity® brand, Face to Face® TRANSITIONS games encourage open discussion surrounding the often difficult transitions in life.
"Transition and change are difficult realities in life," said David Esposito, Managing Partner of Harvest Time Partners. "Learning to handle them is a critical life skill. We designed these fun games to help players understand the emotional impact of change on real-life issues and to reinforce principle-based decision making with the intent of developing and strengthening one's character."
There are four versions of the Face to Face® TRANSITIONS games: Elementary to Middle School, Middle to High School, High School to College and the major change of Single to Married life.
All four games include a deck of 96 cards that present players with questions that stimulate lively discussions on the really big milestones on the road of life. Each edition helps players build the critically important life skill of  "Face to Face" authentic communication that is rapidly being replaced by today's online chatter. Face to Face games are great conversation starters for family time, road trips, and small groups at school and in the community.
"As our world continues to increase in complexity and uncertainty, being proactive in helping those we care about most to effectively handle change is an obligation for parents, educators, and youth leaders in our communities" commented David Esposito. "We developed Face to Face Transitions to be a practical and relevant resource to help start the conversation."
The games are available on the company website at https://www.harvesttimepartners.com and through major online channels such as Amazon.com, Walmart.com, and others.
For more information or to discuss additional products and services from Harvest Time Partners, Inc., please visit the company website at www.harvesttimepartners.com. You can also contact David Esposito directly at david [at] harvesttimepartners.com.
About Harvest Time Partners, Inc.
Harvest Time Partners, Inc. was formed over 20 years ago to enable individuals, families, and organizations to reach their full potential in an increasingly complex and unpredictable world through customized, character-building programs and services. The company's patented and award-winning conversation games have been embraced by families, schools, counseling programs, and faith-based organizations worldwide. They support the development of character and the importance of principle-based decision making formed by the timeless and universal truth contained in the Law of the Harvest—you reap what you sow.