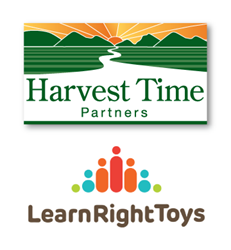 Award-winning conversation games are now available worldwide.
Harvest Time Partners, Inc., a rapidly growing personal- and professional-development company, is partnering with LearnRight Toys to distribute its award-winning portfolio of conversations games worldwide. The company is also preparing for the launch of several new conversation games in time for the 2013 holiday season.
The new conversation games focus on improving the dialogue between parents and children and reinforcing the importance of principle-based decisions to build and strengthen character. As part of the launch, Harvest Time Partners has revised and updated its flagship product, the award-winning conversation game Abundant Harvest®. This game is a one-of-a-kind board game designed to help families and educators open the door to more effective communication. Abundant Harvest encourages decision making based on principles such as honesty, loyalty, and commitment with the intent of reinforcing the law of the harvest—you reap what you sow.
David Esposito, managing partner for Harvest Time Partners, said, "We are excited to launch several new games this holiday season; and our partnership with LearnRight Toys will enable us to reach new markets across the globe. We look forward to working with Nathan King and his team as we expand our reach and product offerings."
Nathan King, President of LearnRight Toys, a growing online distributor of games and resources commented, "We see great potential in the resources being offered by Harvest Time Partners; and we look forward to leveraging the LearnRight Toys platform to significantly expand their presence in the global marketplace."
Currently, Abundant Harvest for Kids and Abundant Harvest for Teens & Adults are available on the company's website www.harvesttimepartners.com and on major online channels such as Amazon.com, Sears.com, Newegg.com, and others.
For more information or to discuss additional products and services from Harvest Time Partners, Inc., please visit the company website at www.harvesttimepartners.com. You can also contact David Esposito at (877) 786-4278 or david [at] harvesttimepartners.com.
About Harvest Time Partners, Inc. 
Harvest Time Partners, Inc. was formed over 20 years ago to enable individuals, families, and organizations to reach their full potential in an increasingly complex and unpredictable world through customized, character-building programs and services. The company's patented and award-winning family-based games have been embraced by families, schools, counseling programs, and faith-based organizations worldwide. They support the development of character and the importance of principle-based decision making—you reap what you sow.
About LearnRight Toys, Inc. 
Founded in 2008, LearnRight Toys has established working relationships with new and established brands by helping its clients connect with independent retailers and retail chains. LearnRight Toys specializes in distribution, logistics, fulfillment, sales planning and marketplace management. The company's expertise and ability to adapt allows its clients to focus on what they do best—developing great products and enhancing their brands. More information can be found at www.learnrighttoys.com.