Free Program Supports the Strengthening of Families through Alignment, Assignment, Accountability, and Affirmation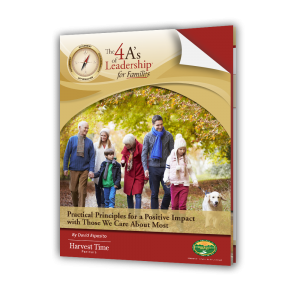 Portage, MI (August 18, 2016) — Harvest Time Partners, Inc., a rapidly growing personal and professional development company, announces that its 4 A's of Leadership for Families program is now available for FREE from the company's website. The 4 A's of Leadership for Families is a proven framework for building and strengthening families in all types of environments.
According to David Esposito, Managing Partner of Harvest Time Partners, there is no denying that our world continues to grow in complexity, intensity, and uncertainty. Despite the unprecedented pace of change we are all experiencing in our homes, businesses, and communities around the world, there is one constant truth about families that we cannot escape: A loving, safe, and secure family is critical to our overall well-being and is the foundation for a better world. The 4 A's of Leadership for Families is a practical and simple approach to strengthen families in a world that continues to challenge the well-being of those we care about most.
"We all spend a great deal of time and energy outside the home, but no amount of outward success can compensate for a failure at home," said Mr. Esposito. "As families try to deal with the growing complexity and intensity of our world, we are pleased to offer The 4 A's of Leadership for Families for free with the hope that these principles can provide a small degree of positive change in families as we all continue on the important journey to leave a positive legacy for our children and grandchildren."
The 4 A's of Leadership for Families program provides relevant resources and practical steps to ensure families are equipped to reach their full potential in a complex world. It is composed around the themes of:
Alignment
Assignment
Accountability
Affirmation
The program is available for FREE for download HERE.