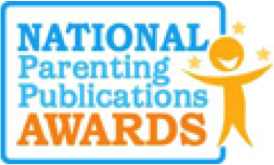 Portage, MI (October 14, 2014) —Face to Face® Kids Edition, a conversation card game from Harvest Time Partners, has been named a 2014 GOLD winner from the National Parenting Publications Awards (NAPPA), one of the longest running and most respected awards programs serving the children and family market.
Each year, NAPPA enlists the help of expert judges, parents, and children who evaluate and play with hundreds of submissions to find the highest quality, most educational and entertaining products. Face to Face Kids Edition stood out for its ability to stimulate lively discussions on real-life issues. It helps build the critically important life skill of "Face to Face" authentic communication, encourages a high level of engagement, and reinforces principle-based decision making with the intent of developing a person's character.
"We recognize products that are innovative, engaging and stimulating," says Julie Kertes, NAPPA General Manager. "A NAPPA award-winning product is a product that parents can trust and kids will love. Parents want the best for their families and strive to make the best consumer decisions possible. Knowing that a product has been tested and deemed worthy of an award gives parents peace of mind that their dollars are well spent and, more importantly, that their children won't be disappointed. We're excited that the Kids Edition of Face to Face is joining this year's list of award-winning products. With NAPPA's vote of confidence, it's sure to be a welcome addition to anyone's gift list."
David Esposito, managing partner of Harvest Time Partners, said, "We are honored that our conversation game Face to Face Kids Edition was selected by NAPPA to receive a GOLD Award.  We share a common mission to promote the importance of having effective learning tools that enhance open communication and create teachable moments for parents and educators."
NAPPA will reveal its 50 gold winners in select parenting magazines across the country, and release the complete list of winners — gold, silver and honors — at NAPPAawards.com and on the leading family organizational app, Cozi, on November 1.
About NAPPA: For more than 20 years, the National Parenting Publications Awards (NAPPA) has been the go-to resource for the best products for families. NAPPA's team of independent expert judges, along with parent and child testers, select the best toys, games, books and other family essentials to be award winners through year-round product testing. For more information, visit www.NAPPAawards.com.
About David Esposito: David Esposito, game creator and managing partner of Harvest Time Partners, was inspired by his experiences as a combat veteran, business executive, husband, and father of four to create resources that remind families about the importance of principles like courage and honesty.
About Harvest Time Partners, Inc.: Harvest Time Partners is a rapidly growing personal- and professional-development company created almost 20 years ago to provide support to individuals, families, and organizations on a variety of topics and subjects encompassing personal and executive development, team building, leadership training, and building a strong marriage and family. Harvest Time Partners provides character-building seminars, workshops, and custom programs designed to increase personal effectiveness, enhance character development, and strengthen the bonds of marriage and family. For more information, visit https://www.harvesttimepartners.com