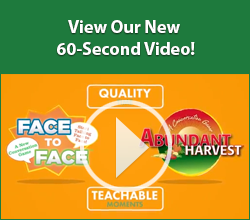 As our world has become more connected with things like the internet, smart phones, and social media, today's online chatter has actually caused our families to become more disconnected — and we are losing the critical life-skill of effective face to face communication.
At Harvest Time Partners, we created a series of conversation games called Abundant Harvest® and Face to Face® to help families and educators open the door to more effective communication, encourage decision making based on principles such as honesty and loyalty with the intent of reinforcing the Law of the Harvest, simply, "you reap what you sow."
Don't miss this opportunity to connect with your family and friends today.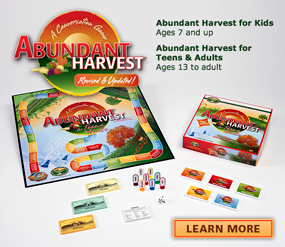 This award-winning, patented,* and fast-moving conversation game helps families and educators open the door to more productive dialogue. It reinforces the importance of developing strong character traits and encourages good, principle-based decision making. Through this game, players quickly learn the law of the harvest—you reap what you sow. Abundant Harvest is available in two versions for two different age groups.
Learn more about Abundant Harvest!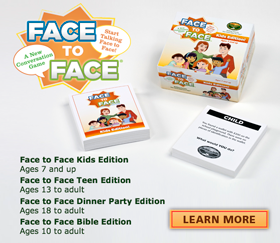 This new game is played with a deck of 96 question cards that ask players questions that stimulate lively discussions on real-life issues. It helps build the critically important life skill of "Face to Face" authentic communication that is rapidly being replaced by today's online chatter. We designed the game to encourage a high level of engagement and to reinforce principle-based decision making with the intent of developing and strengthening a person's character. It's the perfect conversation starter for road trips, vacations, family time, and small-group get-togethers. Face to Face is available in four versions for four different age groups, including a special Bible Edition.
Learn more about Face to Face! 
We Know You'll Love Our Products…
If for some reason you are not satisfied with your purchase, please contact us at customerservice@harvesttimepartners.com so that we can address the concern.
Our products come with a 100% satisfaction guarantee.
*Awarded a US patent for method of play (US Patent 7,073,792).
All games are made in the USA. Click here for retail store purchases and wholesale pricing.