I am not sure where you find yourself today, but I would be willing to guess that not everyone is walking on Easy Street.
There is most likely an important relationship that once was close but has now grown cold.  There is most likely a struggle at work on a project, a team, or hitting a budget.  In our once tranquil communities, there is most likely some tension and safety concerns.
As we continue on our journey to build and strengthen our character, an important part of our personal growth is in maintaining our efforts to reach our goals when it is the time to pay the price.
Throughout the ages, in various forums, it has been said that sorrow is the price we pay for love.  Failure is the price we pay for success.  Pain is the price we pay for compassion.  We all could add a few more to this price list.
The human experience is such that we cannot experience the full potential of love without having experienced the pain of sorrow, loss, and a broken relationship.  We cannot demonstrate the full potential of compassion without having experienced our own sense of misery and suffering.  We cannot have a full appreciation of achievement without having journeyed through the valley of failure.
Those "full" souls around us, we can probably see a few in our mind's eye right now, are the ones who have experienced, journeyed, and stretched the boundaries of the "other side" of the human experience and have paid a high price.    We all have a unique life journey.  However, even in our uniqueness, we have all experienced both sides of the journey and the price we paid has made an impact on us.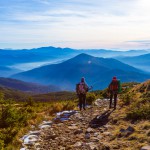 Here are a few thoughts to remind us about the price to pay:
There is always a price to pay. The other side of love, joy, and peace will always be a part of our journey.  The ultimate purpose for the other side I don't claim to know, but for the present, the other side brings us to a greater level of fullness for love, compassion, and commitment to reach our full potential.
Look, learn, and appreciate those around us who express a fullness of life for love, compassion and persistence for they are certainly the brave souls who have stretched the boundary on the other side. We should follow the example of their fullness.
Share our story…at least with those we care about most (perhaps not on social media, but face to face would be the best encounter). Others need to hear the truth that there is always a price to pay.  We are not forever walking on Easy Street.  We will make consistent progress on reaching our full potential as we are reminded of the truth about the price to pay.
It is an important reminder, that as we pay the price on the other side of our journey, we will build and strengthen our character and our Character Creates Opportunity® to reach our full potential.