This seems to be the season of bold, confident plans and predictions.  In the current political campaigns, we certainly see confidence displayed in plans and the direction of a particular candidate.  In the global economy, we see a series of confident predictions of innovations that will change our lives and also the dire predictions of the burden of debt that will drag the economy into a recession.  We seem to be in a public environment that thrives on boldness and confidence. 
These demonstrations of bravado may work well on the TV screen to drive top ratings. However, there is a missing ingredient to this public posturing.  As we continue on our journey to build and strengthen our character, we don't want to miss an important element that is absent in these public forums.  The missing ingredient is authenticity:  The courage to display a real and genuine sense to admit that things rarely turn out according to our well thought out plans.  There are always unexpected variables to encounter, bigger than planned obstacles, and changes in conditions we never thought would have happened.  
Living an authentic life, combined with a commitment to stay the course in pursuit of our goals, is an effective combination as we continue on our journey to reach our full potential.   
Authentic personalities are hard to find on the TV screen, in the newspapers, or on the internet.  However, authenticity is a critical element to provide the foundation for long term health in our most important personal relationships.
Here are a few suggestions on building authenticity in our relationships that matter most:
Share not just victories, but also defeats. There is a natural bias for people to tune-out the conversation when it revolves around how great we are, but there is a natural interest to listen when we open up about times we fell short. There is a great deal of learning that can be shared when we describe the tough times of life.

Face the reality that we are not perfect. Hint:  Others know that truth, so we should be ok with admitting it ourselves.  Perfection is an unattainable goal. 

Demonstrate an unwavering commitment to stay the course in the direction of our purpose. This demonstrated commitment despite the ups and downs and our imperfections will be an example for others to follow. Authenticity combined with commitment is an effective combination for life.
We all play a series of roles in life.  Whether those roles are in the workplace, the home front, the community, or other areas of service, being real and genuine will help us reach our potential in the important relationships connected to these roles.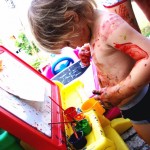 Striving to live the authentic life with those closest to us is worth the effort and brings about a number of positive outcomes:
We prepare others for the reality of life. There are ups and downs and many failures along the way to reaching out goals.  Preparation for that reality helps minimize the time people may stay "down" when the tough times hit, and the tough times will hit.

Authenticity is contagious with those closest to us. When we display the courage to "be real" in our close relationships, we encourage others to take the same step.  Our efforts will help to minimize the amount of "masking" of pain and anxiety that is so prevalent in our world today.  The US Preventive Services Task Force recently recommended that every adult should be screened for depression as part of an annual check-up with their physician.  They did not come to this recommendation lightly, but there was an overwhelming amount of evidence that people are hurting and working hard to conceal the pain.  Being authentic with those we care about most may encourage them to open up and seek help rather than facing a struggle alone.

In times of trouble, people return to those they believe can relate to their situation. Being willing to share openly the pain and the joys of a full life with our relationships that matter most will help to remind others that our door is always open to help with an ear to listen and experience to relate to the struggles of life.
As we become intentional about living an authentic life combined with a steadfast commitment to keep moving forward in our journey, we will continue to build and strengthen our character and Character Creates Opportunity® to reach our full potential and have a positive impact on those around us.